Serenity Stone Etiquette & Policies
About Serenity Stone Massage and Body Work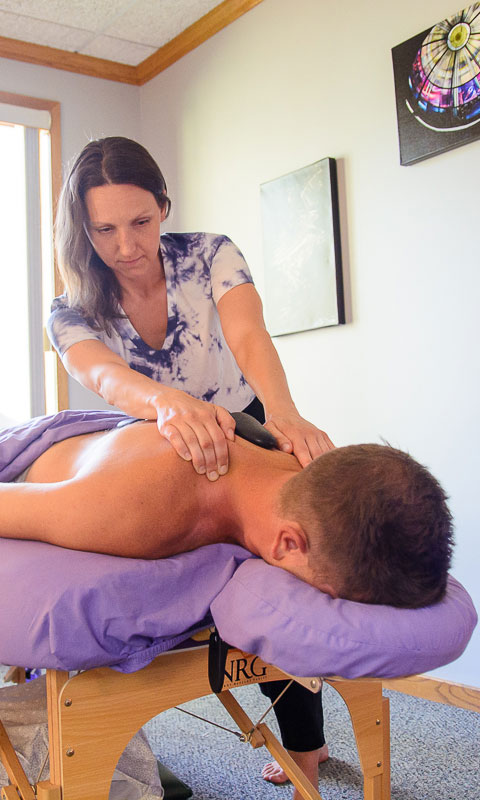 ---
A hidden treasure right here in Lansing MI, Serenity Stone Massage and Bodywork is owned and operated by Jami Taylor a highly trained, certified and licensed massage therapist who specializes in hot stone massage therapy. Jami has been helping clients just like you improve their health and achieve a more balanced lifestyle for over 10 years.
Proudly serving the Lansing area with her own specialized style of hot stone massage therapy. Every massage includes complimentary hot stones service, and is catered to your needs to achieve the deepest possible feelings of serenity and physical healing.
Whether it's finding sense of balance and tranquility through deep relaxation, or relief from chronic pain we are ready to help. Appointments can be scheduled at our office in Okemos, where we serve greater Lansing area.

Pandemic Safety Protocols
The health and well being of our clients and team members is our top priority. If you currently or have recently had any respiratory, flu or cold symptoms including fever, chills, nasal drainage/congestion, sore throat, cough, muscle aches, or shortness of breath, you are you are required to reschedule your appointment for a date at least 14 days in the future.
Due to COVID-19 we are following new safety measure and we ask our client to assist us where they can with the cooperation so we can keep our office safe and healthy.

Wearing a mask that fully covers your mouth and nose is required to enter.
We encourage you to bring your own, but if you do not have one we'll provide one for you.

Call when you arrive. Your practitioner will greet you at your car, take your temperature, and conduct a brief COVID-19 screening.

Our staff is regularly washes there hands and once you enter the center, please use the provided hand sanitizer.

We are taking precautions to ensure you are safe before and during your appointment, like taking your temperature before your appointment.

Surfaces in rooms will be sanitized between each appointment. Please help us keep our center safe, and stay home if your feeling sick.

We encourage contact-less payment either via credit card, or check. We can also accept payment when you book your appointment over the phone or online.
---
Services are available by appointment only. Please be advised that if booking online your appointment must be made at least 24 hours in advance. All therapy sessions scheduled online need to be confirmed by our staff before they are finalized. To ensure that we are able to accommodate your preferred appointment times, we ask that you schedule with as much advance notice as possible.
We are currently not scheduling services for minors under 18 at this time.
We accept appointments for children under the age of 16 if they are accompanied by a parent or guardian during the service and have a parent or guardian signed waiver. Children 16-18 years old are required to have a parent or guardian signed waiver and are not required to be accompanied by a parent or guardian during the service unless requested by the therapist.
Any appointment missed, cancelled, or changed without 24 hours advanced notice will result in a charge equal to 75% of the reserved service amount.
This fee must be paid before a new appointment can be scheduled.
Full payment is due at time of service. We accept cash, checks and all major credit cards (Visa, Master Card, Discover or American Express). Personal checks are accepted if we have an established working relationship with you.
Gratuities are not included in the prices of our services and are always appreciated. All gratuities are at the client's discretion, but are customarily 15-25% of the regular cost of service.
If you are late to your session you are welcome to receive whatever time is left in your appointment. Due to our tightly booked schedule and additional cleaning time need between clients we are generally unable to extend your session beyond your original appointment time. Regardless of the length of the service actually given, you will be responsible for payment of the full service you scheduled.
Please inform us at time of scheduling of any health conditions, allergies, special needs or concerns you have. Your safety is important to us & some services may not be appropriate for certain conditions.
Communicate Your Preferences
Be sure to speak up. All aspects of your massage session can be modified to your preference: pressure (too light or too deep), lighting in the room, style of music, temperature, and whether or not you choose to have a conversation or enjoy the treatment in silence.
In our effort to maintain a relaxing & tranquil atmosphere for clients, we ask that all cell phones and pagers be silenced or turned off upon entering our center. Cell phone use is not permitted beyond the reception area.
To be courteous of others, please refrain from wearing perfumes or scented lotions during your session.
We do not offer insurance billing at this time. All services must be paid for with cash, credit / debt card, or personal check (available if we have a working relationship with you). All clients are responsible for payment in full at the time of service.